Padded bike shorts may seem like something only intense riders need, but comfortable padding can improve anyone's riding experience. We take a look at some of the best options around.
---
When it comes to cycling, especially for those longer rides comfort is key to making it a pleasant ride. Padded cycling shorts are designed to provide optimal comfort during your ride. A more comfortable undercarriage leads to better riding posture and an all-round more enjoyable experience. Many cheap padded cycling shorts fall short of the mark and leave you feeling pretty uncomfortable.
Of course, one single pair of shorts won't match everyone's preference. We all come in different shapes and sizes, not to mention we all have different riding habits. A comfortable pair of padding bicycle shorts are only worth the investment if they cater to all your needs.
The Best Men's Padded Bike Shorts
Though padding materials differ, most shorts provide adequate padding in the areas that matter. Padded bike shorts for men are designed to keep delicate parts well protected during rides. In fact, studies have shown that you shouldn't rely solely on saddles to reduce numbness, but also the properties of padding. Even the best long distance road bike saddles fail to offer all the padding you need for extremely long journeys, so padded bike shorts are crucial.
Some may find that sponge padding is a little too rugged, while others feel gel padding leaves them a bit sweaty. Whatever your concerns are, we've hopefully got you covered.
Below is a list of the 5 best men's padded bike shorts that work to protect delicate areas and relieve rubbing.
Sponeed Men's Cycling Shorts
If you're looking for something to keep you comfortable on those longer rides, you'll be pleased with the quality of these shorts. They are tight enough to provide support, but shouldn't leave you feeling restricted at all. The padding is placed perfectly to help cushion the ride without diminishing breathability. There's silicone grip around the legs to make sure they don't ride up your legs during use.
Overall these are a great looking pair of shorts that more importantly feel very comfortable to ride in. The only thing you need to be cautious of is Asia to US sizing differences, with the US fitting a size down from Asia size.
Santic Men's Cycling Shorts
These shorts are great at saying in place, which is helped by the nylon/spandex which also provides great breathability. There's mesh on the sides of your waist which allow some much-needed cool air in. The reflective logo on both sides is helpful for quickly drawing peoples attention.
These are a stylish and functional pair of shorts we'd recommend to anyone looking to ride medium distances. Again, the sizing may cause some confusion but we found ordering a size larger ended up providing the best fit.
Sportneer Men's Bike Shorts
If you're looking for a high-quality pair of cycling shorts on a tight budget these are an excellent option. They're great for those of you looking for a first pair of cycling shorts, or for anyone who needs something cheap and cheerful.
Considering the low price-tag you still get quality; with three layers of high-performance cushioning. The fit improves your aerodynamics while maintaining impressive levels of comfort. Overall, we're heavily impressed with these shorts and if you're looking for something light on the wallet they're well worth the money.
Baleaf Men's 3D Padded Bike Shorts
These shorts make great use of technology to bring you a comfortable and breathable pair of shorts that are highly functional. The 3D cushion placement gives you plenty of added protection where you need it. The fabric used combined with moisture management helps keep you dry.
The wide waistband made with elastic is great for keeping you comfortably snug. There's a wide range of designs available as well, so regardless of your fashion preferences you should find a suitable pair. Overall these are high-tech pair of shorts that keep you comfy and dry during rides.
4ucycling 3D Padded Bike Shorts
If you're looking for a pair of shorts that are great for long-distance, these make a great choice. These fit very nicely, they're tight enough to feel comfortable without being too tight. The 3D protection pad helps reduce to strain after long durations of sitting down.
Made of high-quality mesh fabric these shorts are highly breathable. This means you get a ride that's not only comfy but also dry. These are a very good pair of cycling shorts and if you're looking for something to see you through long distances we highly recommend them.
Choosing the Right Pair of Padded Shorts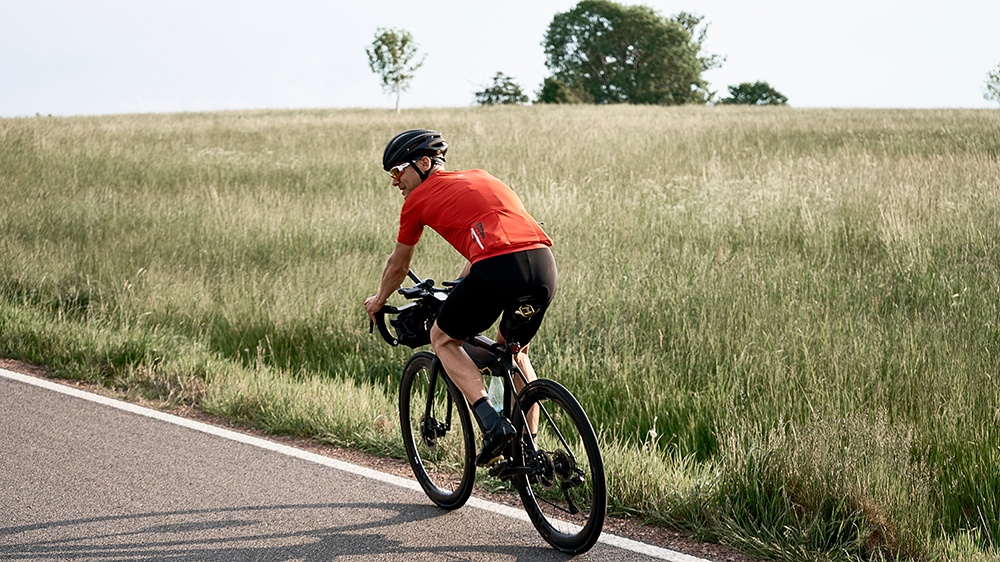 One of the best things you can do for yourself to increase your comfort during a long bike ride is to get a good pair of padded cycling shorts.
For many serious cyclists, proper shorts are as important as a good helmet and pair of gloves. There's plenty of reasons padded shorts are great, but there's also a variety of considerations you should make before buying them.
Types of Padded Cycling Shorts
In order to be successful shopping for your new bike shorts, you need to decide which style best fits your needs. The following are the most common types you will see:
Road Shorts
Considered the "classic" option, these shorts either have an elastic waist or a bib and are usually made of nylon or spandex to help keep them in place.
They should be breathable as well as help draw moisture away from your skin.
They are both comfortable and aerodynamic because they move with your body. A good pair of road shorts will prevent any sort of chaffing.
Bib Shorts
These are basically shorts with built-in suspenders. They have a piece that goes up around your shoulders so that they don't require an elastic waist. In general, they are more expensive than the ones that do not have bibs. Keep in mind, they can make a short bathroom break take a lot longer.
Tights
These are essentially just longer shorts, covering about three-quarters of your legs. If you do a lot of winter riding, these may be a good option. They sometimes come in thicker materials to add additional warmth.
Shy Shorts
This is the slang term Australians use for cycling shorts that are slightly baggier. The outer lining is looser but there is usually a skin-tight layer underneath. The main reason for them is to protect modesty.
What to Look for in Padded Cycling Shorts
No matter what style of men's padded cycling shorts you go with, there are some qualities you will want to look for in order to make sure they are good ones. Here are a few to keep in mind:
Material:

 

You will find biking shorts in a variety of materials. The most common are nylon, polyester, and spandex. These are all stretchy materials designed to give you a snug fit. Nylon is very durable, while polyester is good for promoting moisture transfer and breathability. Most shorts are a combination of a few materials.
Padding:

 

The amount of padding that a person needs is really up to them. Some shorts have thin padding, some have thick, and most fall somewhere in between. The padding is also referred to as the chamois. Although you can find unisex padded cycling shorts, it is better to buy a pair designed for your gender.
Panels:

 

Generally speaking, the more panels in a pair of shorts the more comfortable it will be. You will find shorts with 4, 6, or 8 panels most commonly. More pieces of fabric, or panels, allows for a more customized fit.
Length:

 

Shorter shorts are great for exercise classes or for cyclists concerned with their tan lines. Shorts that go down to the knee protect your thighs better as well as do a better job staying in place.
Leg Grips:

 

Many shorts are equipped with

 

silicone in the legs

 

to keep the shorts from moving around. It may take you some time to get used to this, but eventually, you will most likely appreciate having this feature.
Seams:

 

It is important that the seams on your shorts do not contribute to chaffing. A good quality thread and well-thought-out panel design are the best way to achieve this.
Budget:

 

You can buy padded cycling shorts from ten up to hundreds of dollars. While the more expensive ones might have more advanced features, you can find a cheaper pair that will suit your needs.
Additional Tips
Although it may seem odd, remember that you typically do not wear underwear under your cycling shorts.
The ones you buy should be breathable and made with anti-bacterial materials. In theory, they are even more sanitary than your normal underwear!
Pay careful attention to the sizing guides before ordering padded cycling shorts.
Your Saddle Matters, Too!
Padded bike shorts are wonderful but they can't cover up the soreness caused by an uncomfortable bike saddle.
Tastes and body shapes differ, so if comfort remains an issue, try out a few different saddles to see what fits. The best road bike saddles provide generous padding and control while reducing pressure on soft tissues and sit bones.
Conclusion
A good pair of padded cycling shorts can vastly improve your comfort when riding, which may cause you to push yourself even further. Since they are tight-fitting, they do not restrict your motion or cause any drag when riding. Once you try riding with them, you are likely to never go back.
They are a relatively inexpensive way to increase comfort while out on a ride. Mens shorts are very different to womens cycling shorts so it's important you invest in something purpose-built for your body type.